Welcome to Gemini Customs!  We are your complete source for beautiful and reliable custom carry, Ruger and Smith & Wesson Double-Action Revolver customization.  Our carefully designed packages for your Ruger SP101, GP100 and Super Red Hawk and any S&W J, K, L, N or X Frame revolver should serve any shooter's needs.  Gemini Customs is a true custom shop, featuring our own exotic wood grips, Hybra-Port™ porting, moonclip conversions and Small Wonder Sights.  We understand what it takes to build your dream gun and we encourage you to browse our website and enjoy seeing what we can create for you.
This slideshow requires JavaScript.
In business since 1997, Gemini Customs has specialized in meticulously crafted heirloom quality sidearm customization of concealed carry sidearms. We offer a full line of options, packages, parts, and other customizations to enhance your sidearm.
Known for years as one of the most "over the top" 1911 compact style pistolsmiths, Marc's emphasis has evolved into customization of all Ruger and Smith & Wesson double-action revolvers.
Our Hybra-Port™ Ruger and Smith & Wesson packages, as well as our full custom masterpieces, have become an overwhelming success with strong customer demand.
Marc's wife, Karen, expanded the scope of operations to include Exotic HardWood Grips in 2010. We are now the ONLY custom pistolsmithing operation in the United States to make our own over the top double-action revolver grips.   We only supply grips to customers that have submitted their firearm for customization.

Please take time to enjoy our site and see what we may do for your next masterpiece.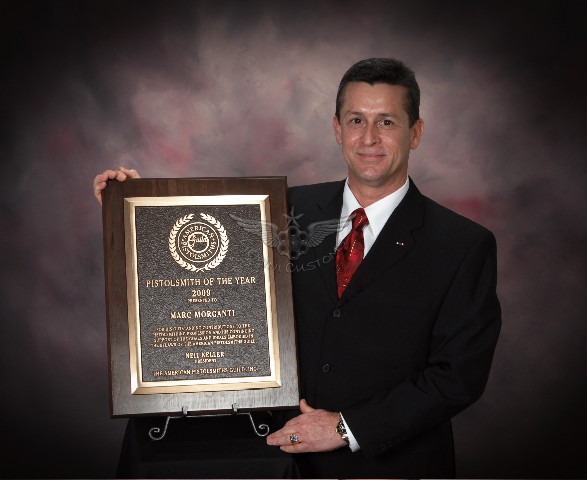 This slideshow requires JavaScript.
The next 20 customers to order a Ruger SRH Carry Pkg from our Ruger page will receive 1 free ticket for the drawing on the 2014 Gun of the Year for the American Pistolsmiths Guild!  Good Luck!
The American Pistolsmiths Guild is proud to present the creative talents of our finest craftsmen. This years' offering is built on a Ruger Super Redhawk platform in the "short barreled" .44 magnum Alaskan configuration.
This project features the following upgrades as performed or provided by the following craftsmen of the American Pistolsmiths Guild.
1. Mr. Hamilton Bowen of Bowen Classic Arms Inc., RCSS Rough Country adjustable rear sight and front sight gunsmith blank.
2. Mr. Virgil Tripp, Tripp Research Inc., Cobrachrome firearms hardchrome plating.
3. Mr. Brian Powley, Powley Engravers Inc., Custom hand engraving.
4. Mr. Scott Mulkerin, SDM Fabrication. 14K gold bead front sight insert.
5. Mr. Tom Kilhoffer, TK Customs Inc., Moon-clip speed reloading system.
6. Mr. and Mrs. Marc Morganti, Gemini Customs LLC., All mechanical and gunsmithing, machine work, V8 Hybra-Port porting, testing & tuning, jewelling, reliability and accuracy work, and those beautiful "handmade" Desert Ironwood grips by Mrs. Karen Morganti.
7. Mr. Matt DelFatti, DelFatti Leather Inc., Custom Elephant Hide holster and leather moon-clip carrier.
8. Mr. Les Yoder, Brookfield gun cases, French Fitted presentation case with APG Logo.
The combined parts, services and talents add up to one beautiful-looking, hard hitting, soft-shooting .44 magnum that will make mouths drop open at any Gun Club Range or fancy Bar-B-Que gatherings. While it is indeed an eyeful of beautiful, this offering is completely practical when carried in the exquisite Exotic Elephant hide holster custom crafted by Mr. Matt DelFatti.
It just does not get any better than this. The estimated value of this project is easily exceeds $6500.00 and it would take years to coordinate the build to completion.
This package will never be duplicated, even though it is a regular "catalog " offering from Gemini Customs. The engraving pattern and APG logo are embellishments that ensure this a one of a kind masterpiece for one lucky winner.
We are keeping ticket donations the same as it has always been in years past. $20.00 donations will receive one ticket and one chance at this amazing offering. There is always a winner. You may make as many donations as you wish for as many tickets as you want dependent upon availability of tickets.
Ticket donations will commence on the 4th of July to begin celebration the 238th Birthday of our Nation of Armed Citizens. All donations will end on the 27th of November, Thanksgiving Day. No entries will be accepted before July 4th. Please check the APG website americanpistol.com for further details as we make them available.